Executive summary:
A tiny startup with just 17 employees (mostly PhD scientists) has made a game-changing breakthrough that Amazon, Apple, and Intel are dying to get their hands on.

This microcap is about to announce a landmark royalty deal that could 109X its annual revenue overnight!

Here's how ordinary investors can buy into this American microcap for pocket change before it explodes to $25+/sh.
Dear reader,
Scientists have broken through!
A small group of Ivy League PhDs finally cracked the biggest problem in all of tech.
A public announcement is imminent...
And one microcap stock is about to see its annual revenue jump up to 109X OVERNIGHT.
See this patent #10636879 granted by the United States?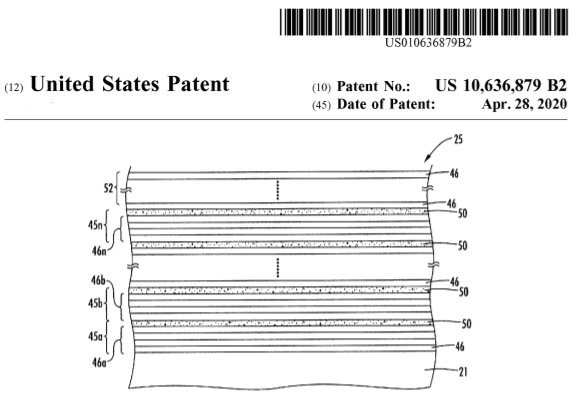 It may not look like much...
But as I'll prove to you in a moment, it's your key to becoming $25,000, $40,000, or even $100,000 richer in one night.
Now, I've specialized in microcaps for 15 years.
I picked NVDA before it soared 3,365%... ENPH before it soared 6,040%... and Amazon and Google almost a decade ago.
But this incoming 109X announcement is unprecedented.
Picture this: It's 7:00pm and the market's closed. You grab your phone to check your stocks.
Then you see it. A microcap stock—YOUR microcap stock—is going ballistic!
After-hours trading:
(+205.8%)
This announcement could happen as soon as tonight.
When it does, I expect the market to instantly reprice the microcap to $25 or more.
From there, the sky's the limit. As I'll show you, $50... $75... $100... $200... are on the table.
Potentially turning a small investment into a whole nest egg.
The last time something like this happened was 34 years ago.
One tiny microcap would ultimately reward investors with a 20,624% gain.
Its name?
Intel... today's #1 computer chip maker.
I'm going to show you all the proof so you can decide whether to invest in this microcap with me.
So please read this whole letter closely. But do it today...
Because my research shows this game-changing announcement will happen at night... while the market is closed... as early as TONIGHT.
MIT Technology Review calls the situation "inevitable."
The Telegraph says it will "Usher in a new era in computing."
The patents are locked down...
All that's left is the announcement that this tiny microcap has struck a massive royalty deal.
And I guarantee it will happen.
I repeat: I 100% guarantee this announcement will take place.
If you're in the microcap before it happens, your financial life could change forever.
Because the genius scientists at this microcap have invented something incredible:
A new type of breakthrough microchip.
One made from a highly secretive, quantum-engineered material that's superior to silicon.
Soon these new microchips should be in every Apple iPhone... Netflix server... and Tesla car.
This tiny microcap is disrupting the very foundation of Silicon Valley!
In this letter, I'll share everything you need to invest today.
But first, you need to see my...
Four-word secret to getting rich in microcaps
Of course I can't guarantee this tiny stock will make you rich in a matter of days or weeks.
But it has happened before...
In fact, a microcap my team recommended recently soared 731% over one weekend.
Hardly anyone knew about a little company called Equillium (EQ).
But thanks to my four-word secret, my team concluded this microcap was about to explode.
We recommended Equillium... and on July 13, 2020, it announced breakthrough results related to a coronavirus trial.
It jumped a crazy 731% from Friday to Monday!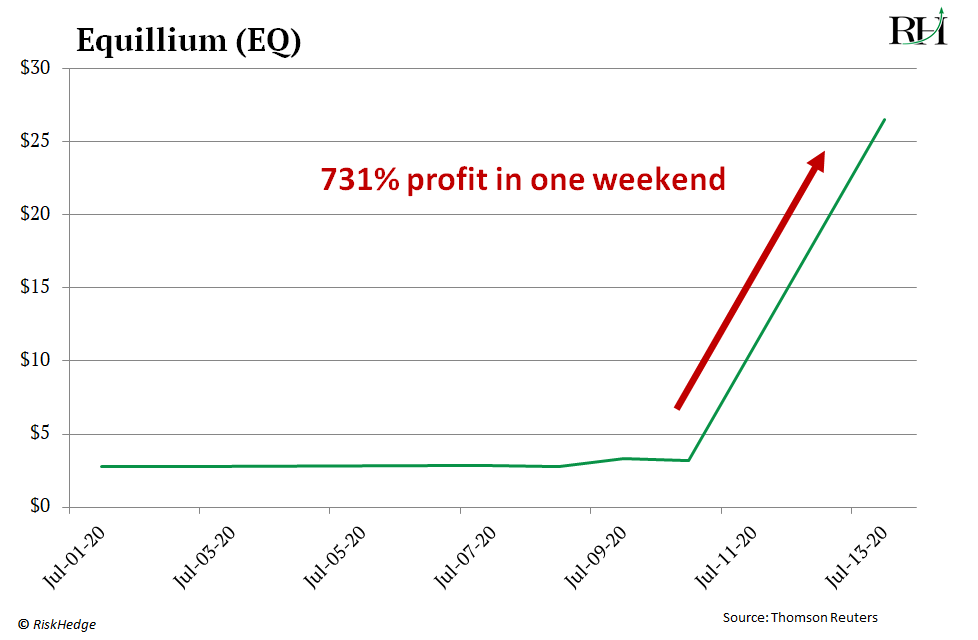 Have you ever 7X'ed your money over the weekend?
Imagine waking up Monday morning to an extra $20k, $30k, or $50k in your account.
If you didn't hear about this opportunity, don't beat yourself up.
The fact is most investors miss these moneymaking opportunities.
Because they haven't discovered the four-word secret behind virtually every overnight microcap spike...
Like that of Synthesis Energy Systems (SES).
Last fall, this energy disruptor shot up 1,200% in eight trading days.
The reason? A breakthrough announcement related to "gasification technology."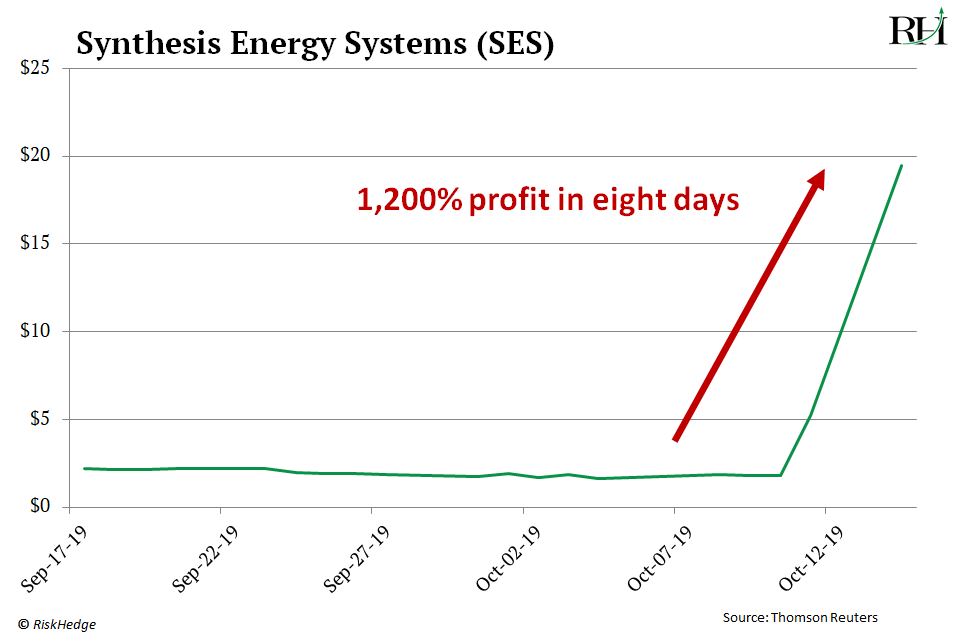 Consider Allied Health (AHPI), a microcap that makes respiratory equipment to treat coronavirus symptoms.
Its stock once moved from $4.15 to $66.99 in less than 24 hours!
Imagine putting in $5,000 on Thursday...
And pulling out $80,700 before the weekend.
Overall the stock soared 4,167% in 25 trading days earlier this year.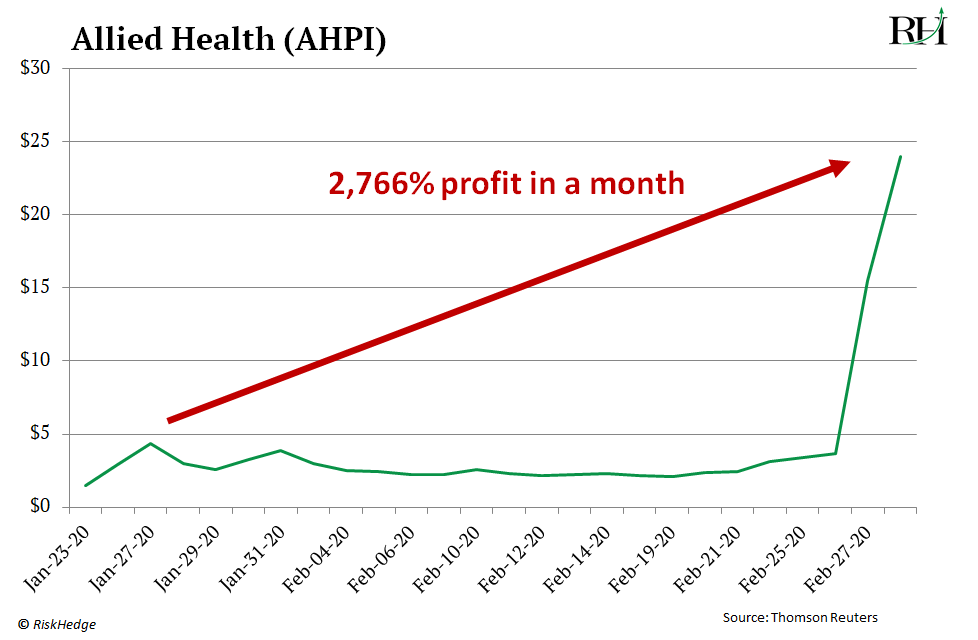 Microcap Vanda (VNDA) skyrocketed 626% in a single day when it announced a breakthrough treatment for memory loss.
Within a week, investors were ten times richer with a 1,100% gain.
Or consider Aquinox (AQXP).
It jumped 2,687% in a single day on a breakthrough drug announcement!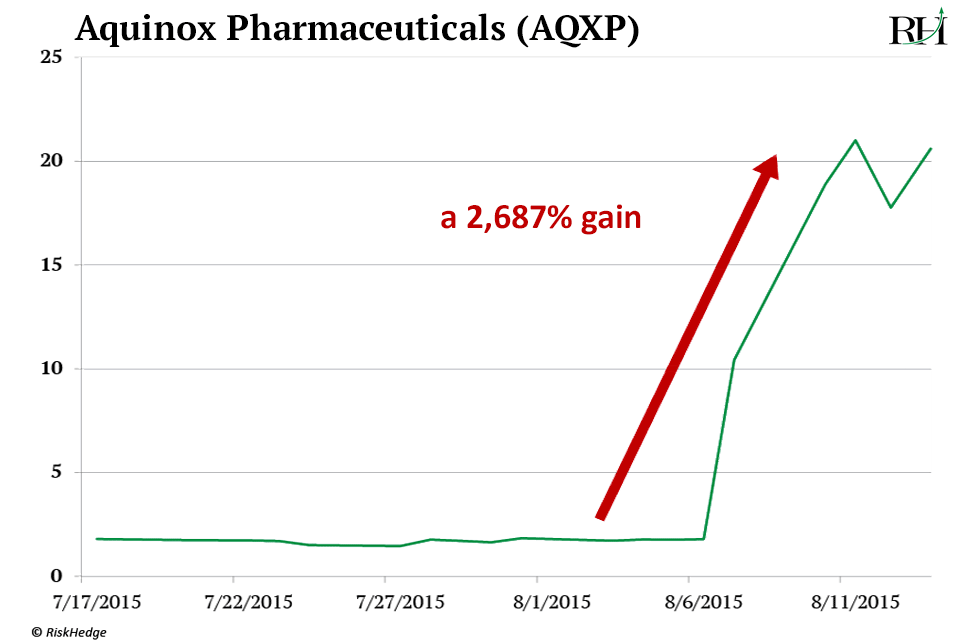 These overnight wealth transformations are extraordinary.
And today, I'll hand you the keys to get in on the next one.
So you can profit when the tiny microcap makes its breakthrough announcement... as soon as tonight.
But please understand...
You CANNOT get rich this way if you're buying the same stocks as everyone else
When you think of the stock market, do you think of the S&P 500?
So does everyone else.
But here's the truth...
The S&P 500 doesn't include microcap stocks.
You see, last year, the #1 performing stock in the S&P rose a respectable 148%.
However, the ten best performing stocks in the US were ALL microcaps.
And as you see here, they blew the #1 S&P stock out of the water.
Top performing stocks of 2019
Stock
2019 gain
Type of stock
AXSM
3,565%
Microcap
CNST
1,074%
Microcap
SSI
997%
Microcap
KOD
913%
Microcap
PRVB
741%
Microcap
EVER
721%
Microcap
RCEL
712%
Microcap
DRRX
691%
Microcap
ARQL
620%
Microcap
ISEE
615%
Microcap
HEBT
582%
Microcap
That's important because Forbes says you need at least $1.5 million to retire.
But the government says the average 60 year old only has $107,000 saved.
I know the #1 anxiety for many folks is figuring out how to close that gap before it's too late.
S&P stocks simply can't grow fast enough.
But look at all those big profits that microcaps handed out...
Folks collected 721%... 997%... even 3,565%...
All in just one year!
Even the worst pick turned $5k into $34k.
Had you owned two or three, you could've easily seen profits of $100k flow into your account.
That's "pay off your house" money.
Imagine sending one big check off to your bank... and being mortgage free for good.
And look, if your profits have fallen short of these levels, don't blame yourself.
Wall Street has failed the little guy.
The little-known secret of microcaps is they're too small for hedge funds, mutual funds, or other "big money" rich guys to bother with.
J.S. Kim admits in his book Confessions of a Wall Street Insider: microcaps" are completely ignored by Wall Street firms."
We all know Wall Street exists to enrich millionaires and billionaires.
But microcaps are simply too small to move the needle for very wealthy people.
Warren Buffett, the most famous investor alive, says of microcaps:
"The highest rates of return I've ever achieved were in the 1950s. I killed the Dow. You ought to see the numbers. But I was investing peanuts then. It's a huge structural advantage not to have a lot of money."
In other words, microcaps are the only place where the little guy can outmaneuver Wall Street.
I can't speak for you—but I know a lot of hardworking folks who could use 731%, 626%, and 2,687% profits.
Would an extra $50k, $100k, or $150k make a difference in your life?
Of course, you can't simply close your eyes and buy any microcap.
There are 2,000+ microcaps in the US.
I estimate only 1.2% of them will ever see an overnight spike like I'm predicting for the microcap I'll share with you shortly.
But don't worry...
I've developed a proprietary formula that allows us to invest in microcaps before they spike.
My formula draws its predictive accuracy from my simple 4 word secret.
With this secret, making money in microcaps doesn't just become easy. It becomes fun!
For example, solar stock Enphase (ENPH) was trading for pocket change when I recommended it at just $1.14/share.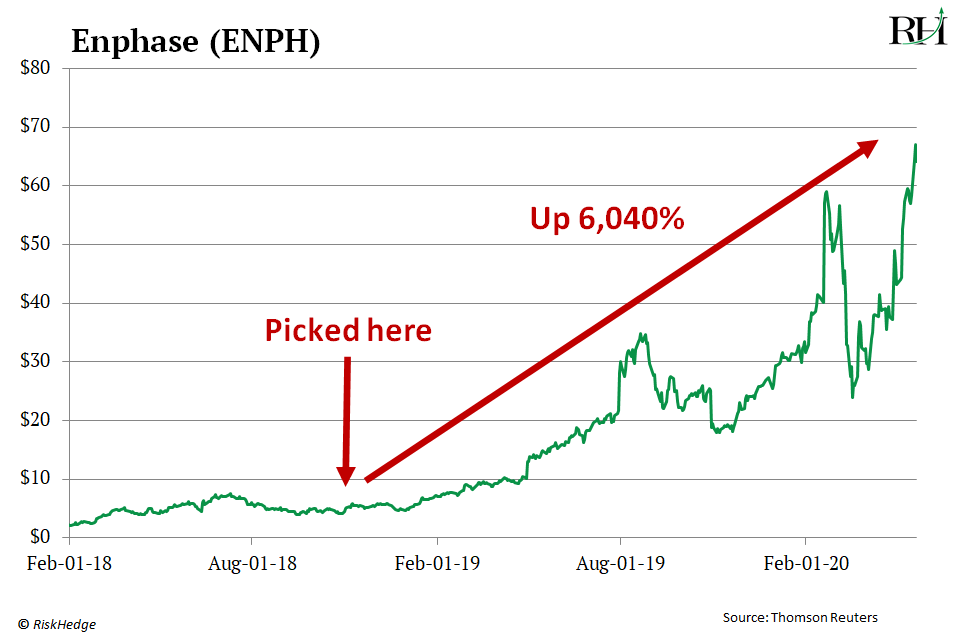 Enphase invented a breakthrough "microinverter" technology that allowed rooftop solar panels to go on regular houses for the first time.
The stock rocketed past $65/share!
Or take graphics chip maker Nvidia (NVDA).
It's a household name now. But it was just $12.41/sh. when I recommended it.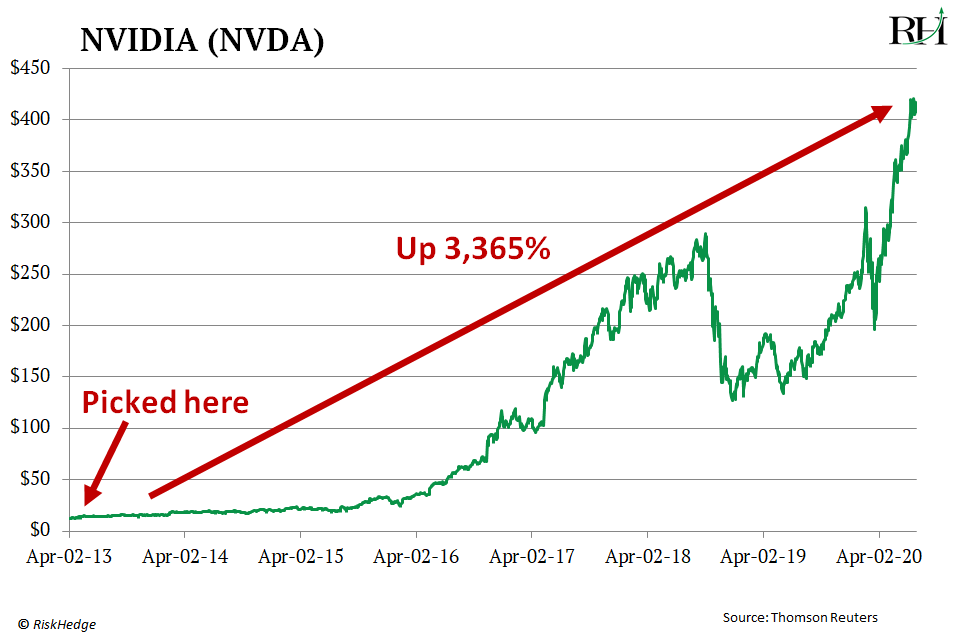 Then it broke through to become the world's leading chipmaker for high-end gaming computers.
Today NVDA stock is above $400.
Or take Kopin (KOPN), a tiny company nobody seemed to believe in but me.
It had declined 80% and was trading for 50 cents.
Then I went on a popular investing radio show and urged listeners to buy it.
Some listeners thought I was nuts.
But sure enough, Kopin had a big breakthrough when its "Augmented Reality" microdisplay was awarded a key patent.
The stock soared a crazy 921% in just four months!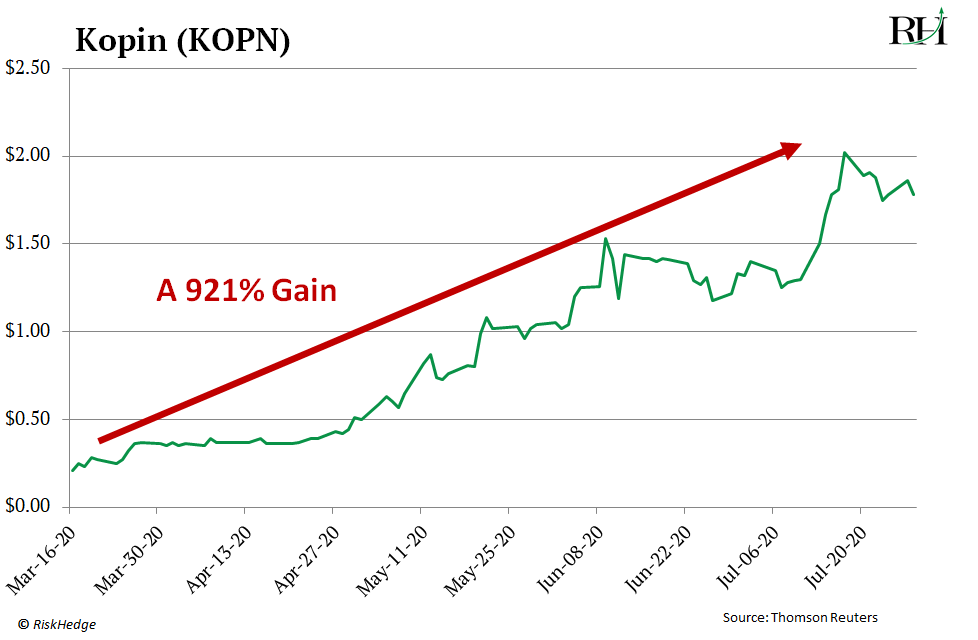 Michael R. wrote me: "I bought KOPN in the .40's off your recommendation. Thank you. It is has been a huge winner for me."
I owe all these wins to the four word secret I'm about to show you.
First I should introduce myself...
My name is Chris Wood, former money manager and now CIO of prestigious disruption research firm RiskHedge.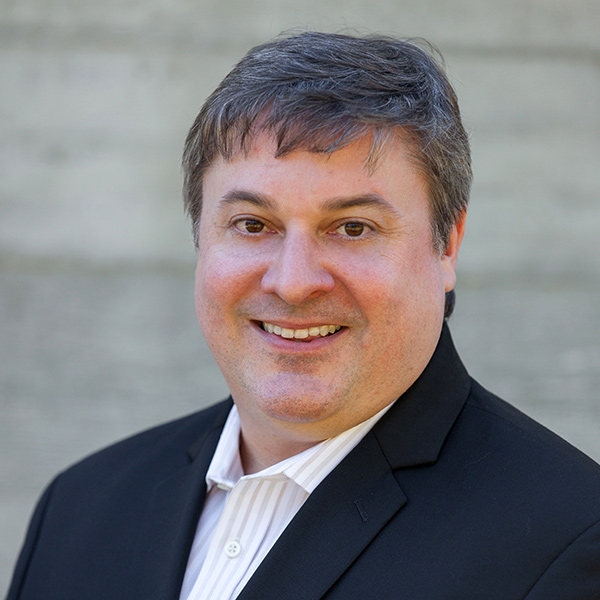 In full disclosure, I quit managing money and I'll never go back.
Hedge fund fees are a rip off.
Those who read my microcap research have the tools to make MUCH more money.
Maybe you saw my recent investing broadcast from Ivy League Columbia University...
Thousands showed up to discover how I consistently pick tiny stocks that can transform your wealth.
I was flattered, but in truth...
I didn't become a professional investor
for the money.
I did it to make my dad proud.
He was a professor of finance at Tulane and Loyola University for 40+ years.
In college I "walked on" to the Longhorn football team at the University of Texas.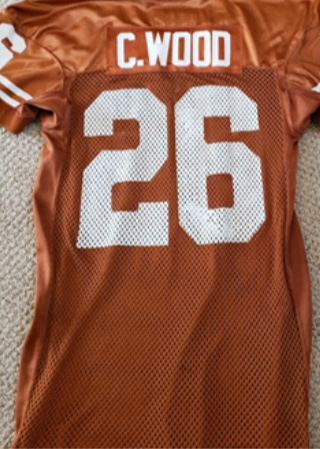 I'll admit... I was a textbook "underdog."
A 5'8" kid competing for a roster spot...
Against none other than eventual NFL legend Ricky Williams.
I worked my tail off just to make the scout team... and rode the bench during games.
But my experience as an underdog shaped me.
It's why I'm committed to helping the little guy level the playing field with Wall Street.
The sad truth is the odds are stacked against the "average Joe" investor.
But as I showed you... microcaps are different.
They're the one place the little guy can consistently strike it rich without Wall Street interference.
Which is why I've dedicated my career to finding microcaps on the verge of spiking.
As I mentioned, my secret is a proprietary formula that filters American microcap stocks.
In short, it removes the guesswork from picking winning microcaps.
I feed it thousands of tiny stocks...
Only 1 in 85 earn a passing grade.
I'll admit... it took 10 years, hundreds of thousands of dollars, and roughly a dozen failures to perfectly calibrate my formula.
But when I finally perfected it... the results shocked me.
Stocks that fit my formula have handed early investors gains of well over 15,000%... again and again:
Cerner Corp (CERN) +25,022%
Amgen (AMGN) +70,739%
Activision Blizzard (ATVI) +15,872%
Intel (INTC) +20,624%
Applied Materials (AMAT) +56,910%
Oracle (ORCL) +68,889%
Celgene (CELG) +40,476%
Illumina (ILMN) +30,488%
At the heart of my formula is an algorithmic scanner designed to detect microcap anomalies.
It uses statistical modelling to identify the 1.2% of all microcaps that are NOT like the others.
I don't want to bore you with the details, so all you need to know is this:
It's the only way, as far as I know, to accurately filter the whole microcap "universe" to find only what I'm looking for:
Tiny stocks making BIG BREAKTHROUGHS.
And make no mistake:
You will retire rich if you only buy
tiny stocks making big breakthroughs.
Tiny stock. BIG BREAKTHROUGH.
When you successfully apply these four words... you WILL get rich.
Microcap Nvidia invented a unique kind of microchip called a "Graphics Processing Unit."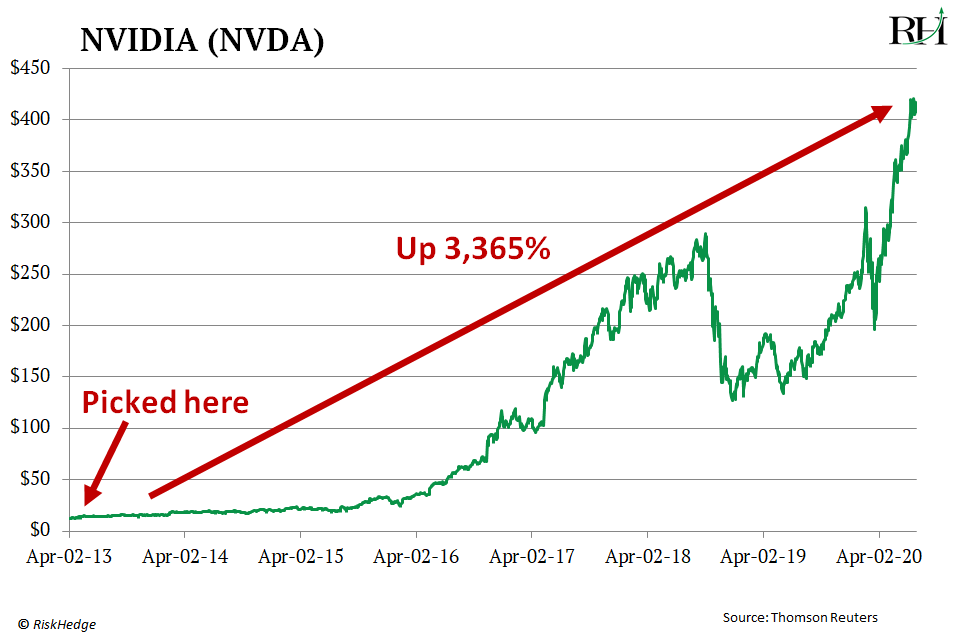 Tiny stock... BIG BREAKTHROUGH... up 3,365% since I first recommended it.
Microcap Enphase brought solar power to the masses with the world's first microinverter.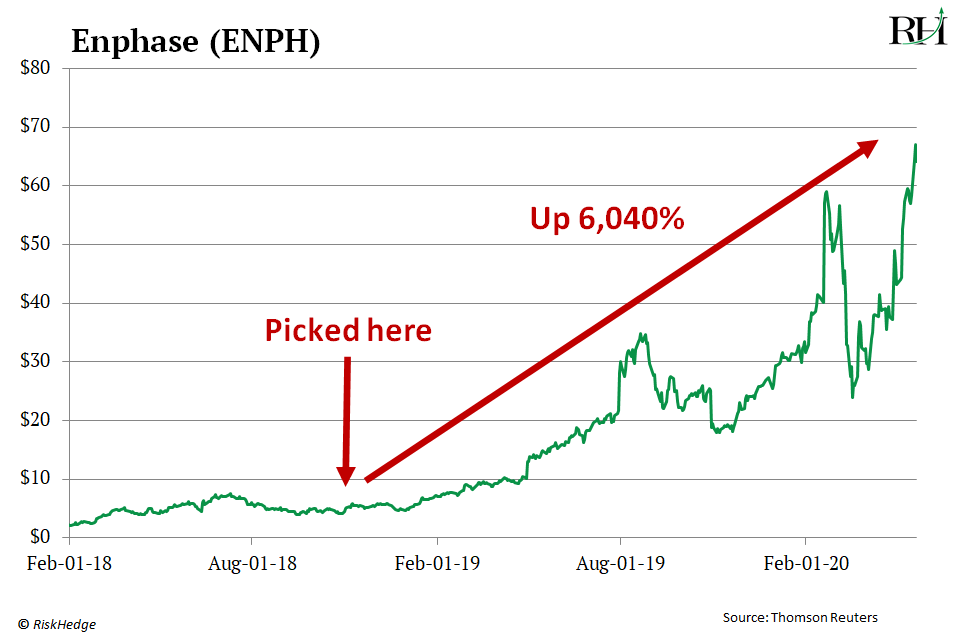 Tiny stock... BIG BREAKTHROUGH... up over 5,000% since I first recommended it.
Microcap Equillium fast-tracked an emergency COVID treatment.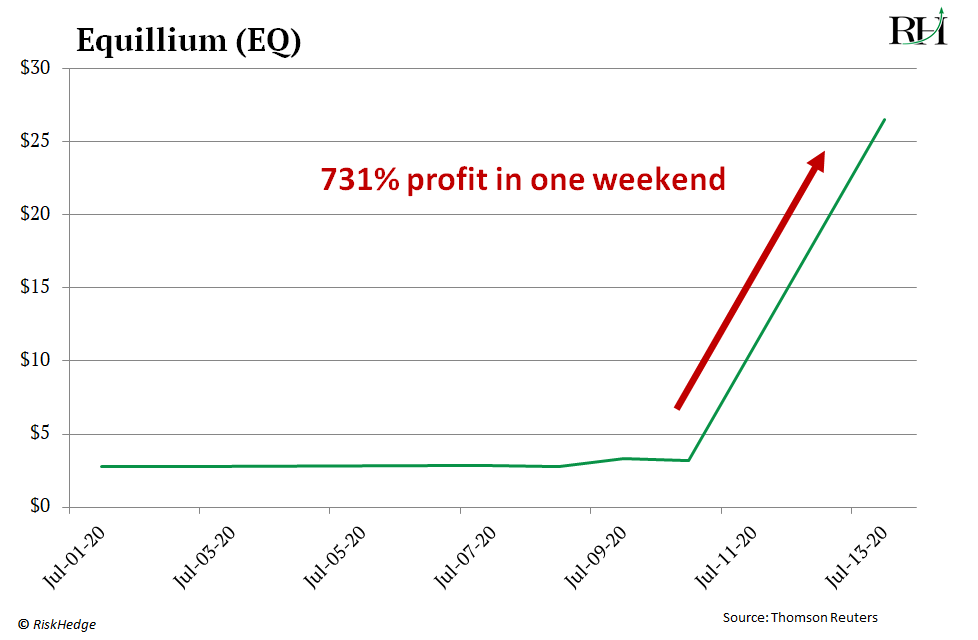 Tiny stock... BIG BREAKTHROUGH... up 731% over one weekend!
Keep in mind, I didn't cherry pick these examples from the stock market almanac.
These are REAL picks that I, along with my team, recommended in published research.
Of course, not all my picks skyrocket overnight.
Google's (GOOG) climbed 350% since I first picked it... Amazon's (AMZN) gained "only" 1,607% since I picked it in March 2012.
But if you're buying Google, Amazon, Netflix, or any other big tech stock today, you can forget about 1,000% gains.
One share of Amazon costs over $3,000/sh.
Imagine Amazon were to make a HUGE announcement that boosts its share price a full $50.
The gain would be... 1.7%.
If you'd invested $3,000... which buys only one lousy share of Amazon...
Your profit is a pretty pathetic $51.
On the other hand, the microcap I'm about to share with you trades for just $8.
I expect it to announce its big breakthrough any day... possibly as soon as tonight.
If this announcement drives its price up $50...
You collect 625%!
Handing you an $18,750 profit on that same $3,000 investment.
That'd be extraordinary.
But as I've shown you, it happens all the time.
Remember... one big announcement caused our pick Equillium to jump 731% in one weekend.
That's the beauty of investing in tiny stocks making BIG BREAKTHROUGHS.
For reasons I'll share right now, I expect this microcap to climb A LOT higher than $50.
Let me tell you why I'm so sure its about to announce...
The mother of all BIG BREAKTHROUGHS
Have you heard of "Colossus?"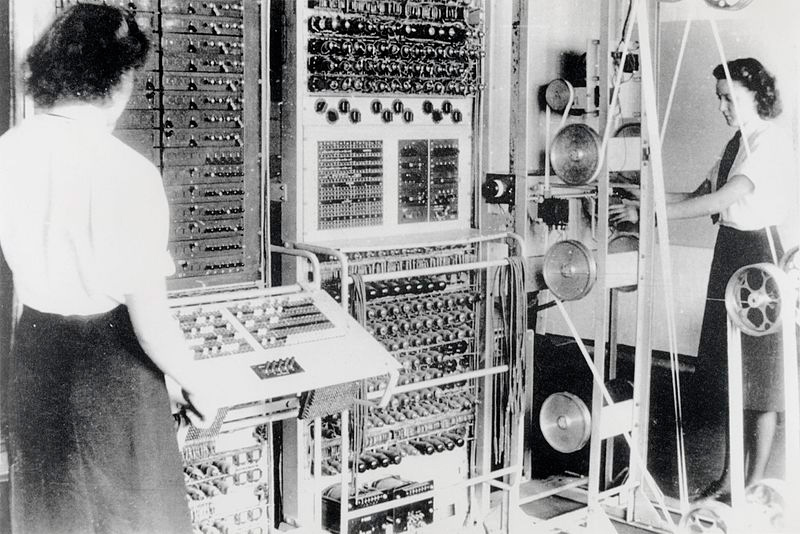 As the first electronic computer, it broke Nazi codes and helped free the world in WW2.
Colossus was bigger than a school bus and no more sophisticated than a modern calculator.
But computers have come a long way... making many investors filthy rich.
Remember this dinosaur of a computer from IBM?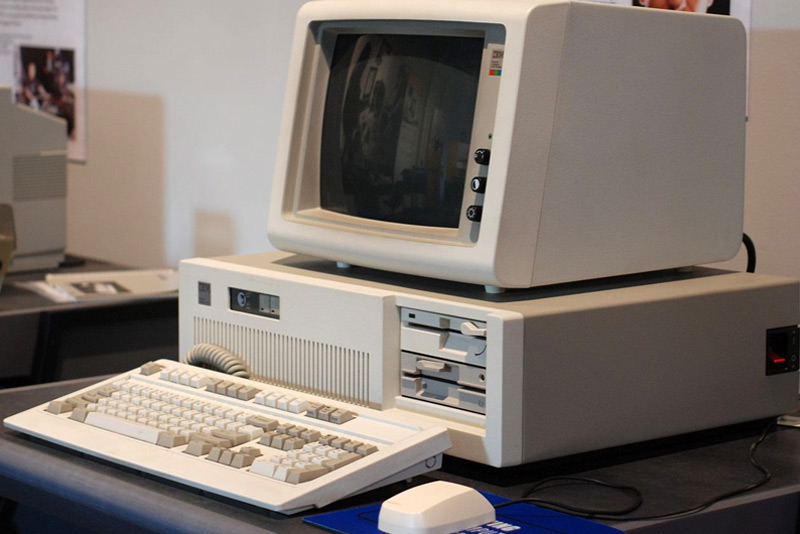 Photo by MBlairMartin / CC BY-SA 4.0
Investors who bought IBM stock in the 1970s saw max profits of 2,172%.
Then Dell came along and made computers sleek.
People laughed at Dell's goofy, "Dude, you're gettin' a Dell" commercials.
But Dell was the #1 top-performing stock of the '90s... skyrocketing 91,863%!
Or course Dell was a microcap at the beginning of that run.
Had you put in $2,000 in 1990, you had $1.8 million by 1999.
One good microcap pick can hand you all the money you'll ever need.
Then Apple spearheaded the smartphone revolution.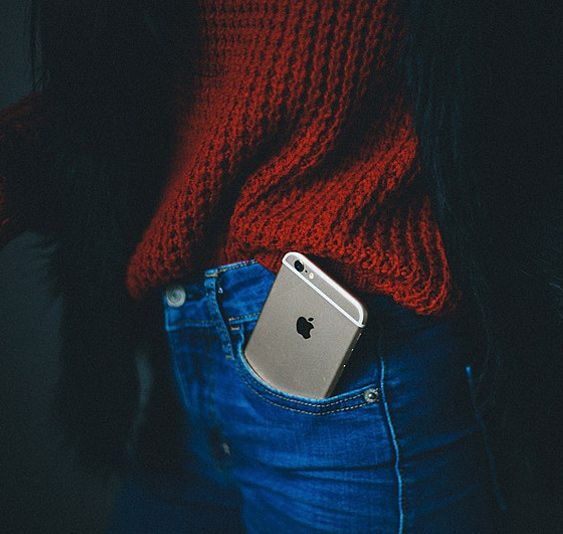 Which essentially put a tiny supercomputer called the "iPhone" in everyone's pocket.
Even a modest sum invested into Apple early on grew into generational wealth.
$1,000 became $1,530,000.
$2,000 became $3,060,000.
$5,000 became $7,650,000.
Proving once again that one good microcap pick is all you need to retire rich.
The $8.00 microcap I'm writing you about today looks a lot like IBM, Dell, and Apple in their earliest days.
Except instead of making computers, it has invented a new superfast microchip material that will power the next generation of tech.
No one realizes this yet.
I only know about it because my "tiny stock BIG BREAKTHROUGH" formula spotted it in the haystack of microcaps.
But as soon as tonight, the $8 microcap is going to announce its BIG BREAKTHROUGH.
Annual revenue will jump up to 109X in an instant.
One moment it'll be an $8 stock... the next it'll likely be a $25+ stock at a minimum.
Wall Street will be dumbfounded.
But you'll be a lot wealthier... IF you're in the stock before its big breakthrough announcement.
In other words, the cat is about to escape the bag.
So it might surprise you that I'm warning:
DO NOT touch another tech stock until
you're briefed on this law
You won't make a penny in microcap tech stocks without understanding "Moore's Law."
M.I.T. says of Moore's Law:
"Almost every technology we care about, from smartphones to cheap laptops to GPS, is a direct reflection of Moore's [Law]."
Imagine... almost every technology we care about... the result of one simple law!
The basic idea of Moore's Law is that computers continuously double in power and shrink in size.
This constant doubling has led to "exponential growth" in computing power...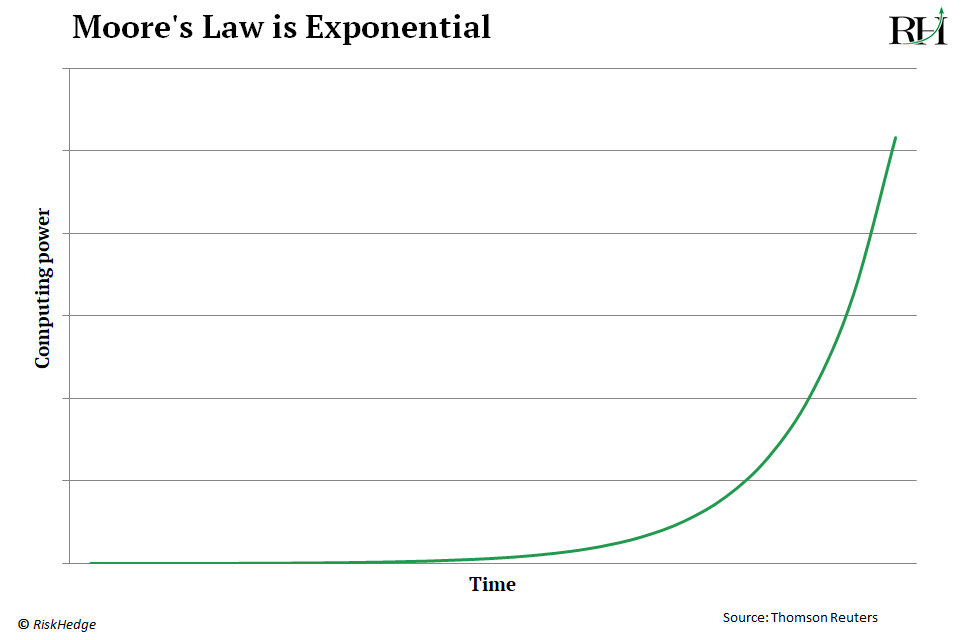 ... which is why one iPhone is 4.3 MILLION times more powerful than the supercomputer that guided Neil Armstrong to the moon.
Imagine calling an Uber or watching Netflix on an old IBM computer?
Without Moore's Law there's no Uber... no Netflix...
No Amazon... no Apple... no Tesla... no Microsoft... no Nasdaq.
In fact, economists say Moore's Law is responsible for one-third of American economic growth since 1974!
Intel founder Gordon Moore is praised as a tech "prophet" for correctly predicting Moore's Law back in 1965.
But what most folks don't yet realize is...
The prophecy was a LIE
The driver of Moore's Law is surprisingly simple.
In short, for the last 55 years, engineers made computers more powerful by shrinking the components of microchips.
They packed more and more computing power into a smaller and smaller area...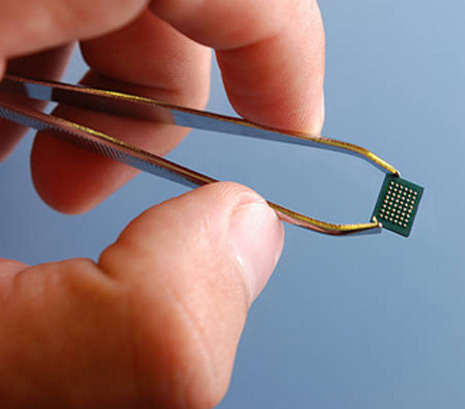 Resulting in today's extremely powerful chips no bigger than your thumbnail.
Today, at the "bleeding edge" of tech, parts of computer chips are so small they're measured in atoms!
Problem is... physics says you can't get smaller than an atom.
Microchips are as small as they can get.
That's right... Moore's Law is dead in the water.
This isn't just according to me.
Leading tech publication CNET recently declared:
"RIP Moore's Law"
Charles Leiserson, MIT computer scientist, says:
It's over. This year that became really clear.
And CEO of large chipmaker Nvidia (NVDA) agrees:
Moore's Law isn't possible anymore.
I'm telling you this because the $8 microcap has made the...
Biggest computing breakthrough since silicon computer chips!
The $8 microcap was founded by a bona-fide genius.
He's an English physicist from Oxford...
Who helped invent the fiber optic network the modern internet runs on.
Now his team of Ivy League scientists has made another world-changing breakthrough.
They've patented an entirely new way to make microchips.
Instead of shrinking microchips further... which is impossible...
They've fused silicon with another element to create a new material.
Unlike silicon, this new material does not exist in nature.
It was quantum engineered in a Silicon Valley lab to be "superconductive."
Take a look at the patent: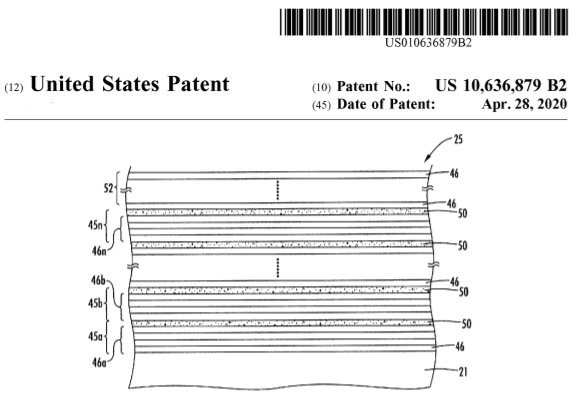 Those horizontal lines are only an atom thick.
When layered into silicon, they supercharge a microchip.
Tests confirm that microchips made from this new material are up to 100% more powerful than today's most powerful chips!
For obvious reasons, the company keeps the exact formula a closely guarded secret.
But we know for certain that IT WORKS.
According to tech news publication New Electronics, the technology can "improve the performance and power efficiency of devices," while also "reducing their cost."
MarketWatch says this breakthrough has already proven to deliver a "performance improvement of up to 50%."
And this new breakthrough microchip technology is the "only game in town."
It's protected by a fortress of 234 patents.
The latest one was just approved by the US patent office.
Now the $8 microcap is in active negotiations with the world's four largest chipmakers.
I believe a game-changing royalty deal is imminent.
It will cause the stock to soar above $25 as soon as tonight.
Which brings me to a confession:
I had to keep this a secret until today.
This may sound unusual, but...
I've been "stalking" this microcap for years.
In fact, in my published research a year and a half ago, I wrote about the $8 microcap:
If this company's tech is half as effective as the company claims, It's a huge breakthrough... I'll be researching this and talking to my contacts to figure out if it's the real deal.
The $8 microcap passed my strict "tiny stock, BIG BREAKTHROUGH" formula a year and a half ago.
So I immediately got to work talking to my Silicon Valley contacts.
When I confirmed that its breakthrough was the real deal...
I knew it would likely be the biggest score I ever delivered to my readers.
After all... the world needs its patented technology.
We need faster microchips for 5G, self-driving cars, artificial intelligence, and any other lucrative tech you can think of.
Which means this tiny company's tech could soon be in billions of cutting-edge devices.
Tiny stock. BIG BREAKTHROUGH.
But I refused to recommend the stock until I knew a big announcement was imminent.
Now, after a year and a half of "stalking" this $8 microcap...
It's GO TIME.
As I mentioned, the company is in active negotiations with the world's four largest chipmakers.
It's already signed a test deal with Qualcomm (QCOM)... which is 500X its size!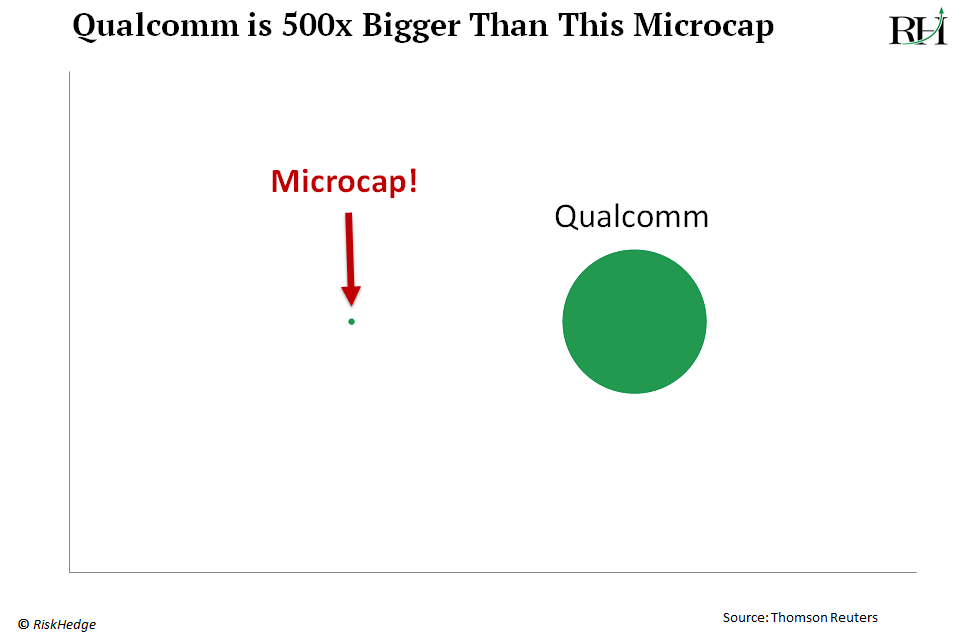 Now all signs point to a breakthrough announcement happening very soon... possibly as early as tonight.
The company has a history of making big announcements around 5PM PST.
And I DO NOT expect them to wait until a scheduled quarterly earnings release.
This is too big to sit on.
As early as tonight, this company is going to announce a landmark deal that causes revenue to jump up to 109X overnight.
Which is only possible because the $8 microcap is a royalty collector.
It doesn't produce a physical product.
Instead, it licenses its patented material to the highest bidders.
Then it gets paid every time they use it to make a microchip.
Royalties are the only way a business can 100X its revenue overnight.
Most folks don't know this, but Qualcomm (QCOM) is actually a royalty company.
As you can see here... it soared from $3.27 to $100/sh... in one year!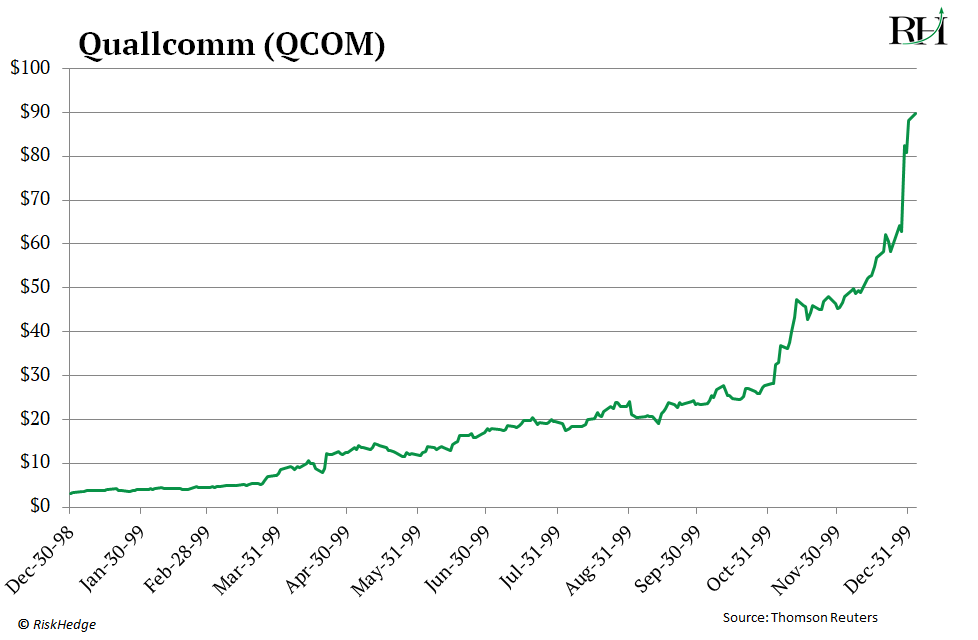 Only royalty companies can pull that off.
In short, royalties allow you to invent something once then collect checks without doing anything.
Singer Don McClean still collects $300,000 in royalties a year from a song he wrote 50 years ago.
When asked about the meaning behind his hit song American Pie, he said it means:
"I never have to work again!"
Once the $8 microcap signs the deal, the money starts gushing.
And the company is barely a speck compared to the companies it's negotiating with.
The $8 microcap barely pulled in half a million dollars last year.
And my calculations show that just one signed royalty contract could cause its revenue to jump to $58 million.
That's a 109x jump—literally overnight!
I expect this announcement to take the stock from $8 to $25+ in a flash... handing you an easy triple.
Now if you're anything like me, you need proof before investing your hard earned money in a stock.
Consider ARM Holdings...
Like the $8 microcap, ARM Holdings was in the business of collecting royalties on microchips.
From $3.50/share, it was acquired by Softbank for $67.50/share.
That's a 1,829% profit!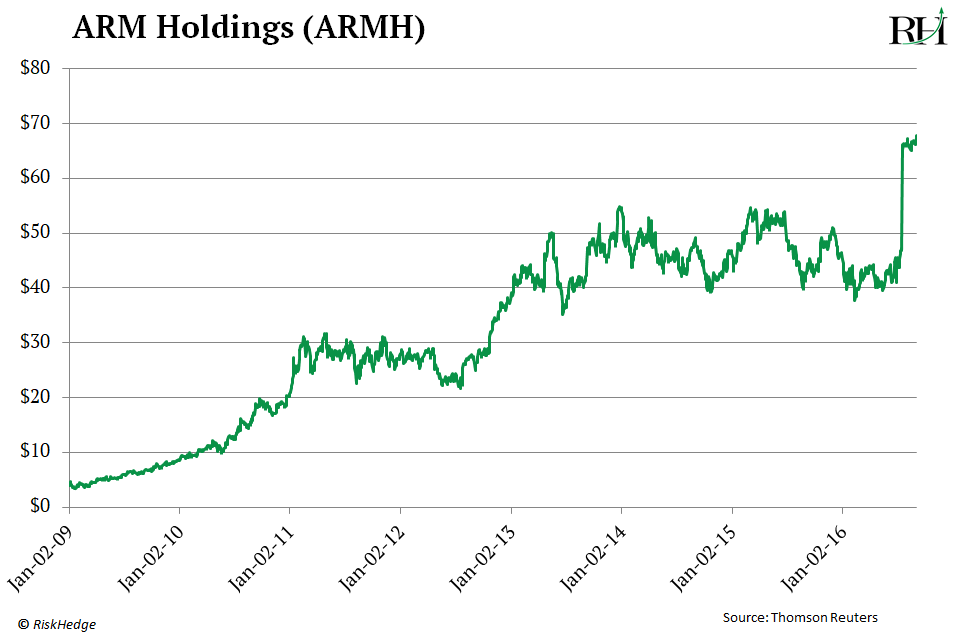 I know for a fact that several giant companies like Intel are looking at acquiring the $8 microcap.
Given the game-changing nature of its breakthrough, I doubt it'd sell for less than $100/share.
But let's be conservative and say it gets bought out for $75/share by Intel.
If you get in today, before the big 109X announcement, you're looking at a nice 838% profit.
And if this company refuses to get acquired and goes it alone like Qualcomm...
You're looking at potential profits up to 25,500%!
The only catch is there's not a lot of time.
The announcement is coming as early as tonight.
And you must be invested before it.
So here's what I'm going to do...
Say the word and I'll email you a copy
of my new briefing...
Titled "Buy this tiny microcap before its breakthrough 109X announcement."
Inside, you'll get everything you need to know so you don't miss this opportunity.
The details on the company... its ticker symbol...
And specific instructions on how to buy it on the Nasdaq with an ordinary brokerage account BEFORE it makes the breakthrough announcement.
Plus, crucial information for understanding how it could triple on announcement night... and climb 1,000%, 2,000%, or even 25,500% overall, like Qualcomm did.
I've spent a year and a half performing due diligence on this opportunity.
So what I'm about to say next may come as a surprise.
I want to send you the 109X Microcap report right now for FREE.
It's part of a special venture I'm spearheading called Project 5X.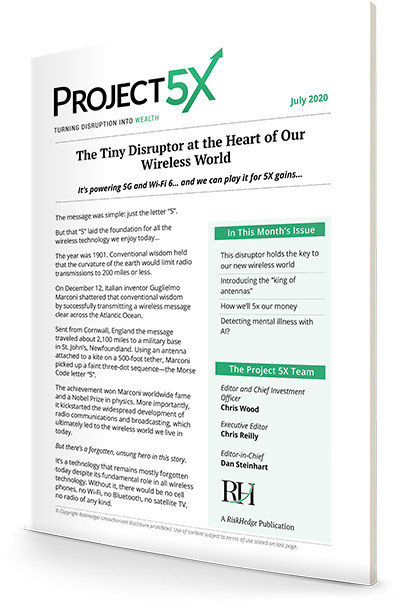 I designed Project 5X to solve the biggest problem I face as a microcap-cap pro with a following of tens of thousands of readers.
A problem that involves you.
Put simply, I can't always share the best micro-cap opportunities with you.
I'm silenced.
Because I can only recommend larger stocks in public.
If I give the ticker of a tiny stock to my entire following, it will drastically inflate the price, and the opportunity would be ruined for all of us.
Project 5X solves this problem.
Through this special venture, I can share with you the names of the tiniest, most explosive microcaps I uncover.
And you can share in the substantial profits they often deliver.
Have you heard of Thermo Scientific?
It's a big biotech company.
Its stock gained 46% in 2019.
That's a solid gain.
But say you'd gotten into microcap Axsome Therapeutics (AXSM) instead... which I recommended back in 2017.
They make innovative treatments for depression.
Its stock surged 3,565% in 2019.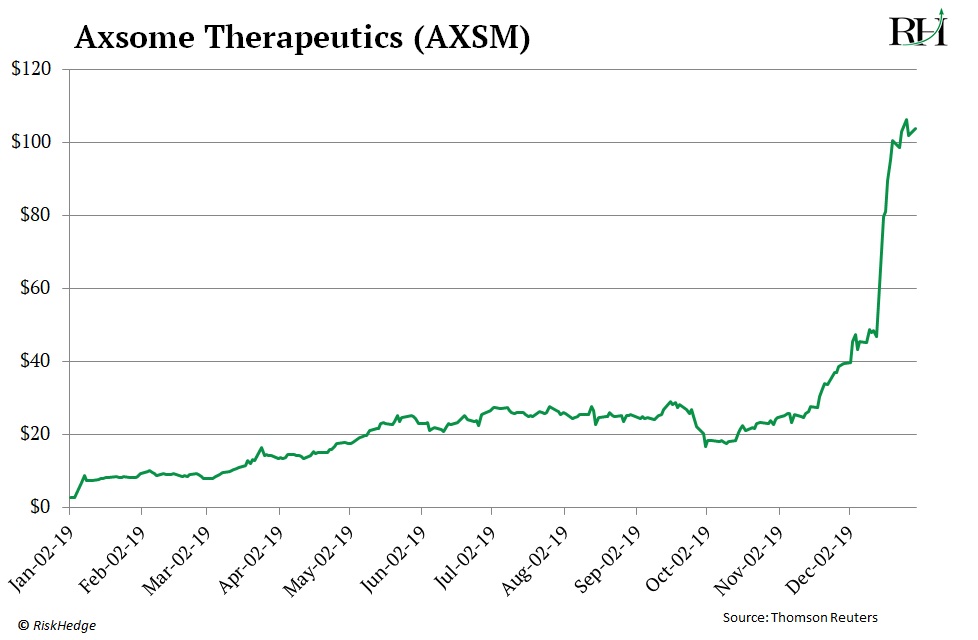 So, you could've either earned 46% on big stock Thermo Scientific...
Or if you knew how to find tiny stocks making BIG BREAKTHROUGHS like my team and I do...
You could've walked away with over a 3,500% profit.
In this case, by choosing the microcap, you'd collect 76x more.
Of course... most folks don't hear about these microcap stocks until its too late.
Project 5X fixes this problem for you.
It gives you access to the tiny, explosive microcaps that can snowball into a whole nest egg quickly.
Right now, I'm most excited about the $8 microcap that's about to announce a stunning new royalty deal.
But that's just the start...
I have more welcome gifts to share with you.
Because thanks to Project 5X...
I can help you get into the tiniest, most exciting, early stage plays on the market.
Like 5G for instance.
CNET calls it a "foundational technology."
Qualcomm CEO Steve Mollenkopf calls it "bigger than electricity."
Billions are already flowing into this massive trend.
Tech Republic reports the rollout of 5G technology is expected to hit $2.7 trillion this year.
And 5G is expected to unlock at least $12.3 trillion in revenue.
I've identified the one tiny stock
that collects "5G royalties."
It holds the key to making a crucial component for 5G devices.
5G doesn't work without this component.
Based on my research, this tiny stock can return 500% at a minimum... and possibly a whole lot more.
I put all the details inside another trading report I'd like to email you as well, called "5G Royalties: How We'll Cash in on 2021's Biggest Boom."
And just like the other urgent report...
I'll send this to you immediately.
You can have both—for free—when you become the newest member of Project 5X.
So how much does a one-year membership cost?
Well, as you can imagine, it's not cheap.
And that's intentional.
This is a premium research group best suited for a specific type of person.
Namely, a serious investor who wants to profit from microcaps set to rise 500% at a minimum.
That's why I call it Project 5X.
My unique "tiny stock BIG BREAKTHROUGH" approach... along with my proprietary stock picking formula...
Has made a lot of readers a lot of money.
That's why a one-year membership to Project 5X normally costs $4,000.
A bargain when you consider the kinds of opportunities you'll get access to.
Just one pick should pay your membership fee many times over.
But don't take my word for it.
One reader wrote me...
"I bought the stock you recommended on Friday at $5.18. When I opened my brokerage account on Monday, it was $7.45! A 43% profit in 3 days!

Keep up the good work. The $$$ is great but the personal satisfaction in having success is even better."
Of course, I can't guarantee all my picks will spike that fast.
Imagine investing $10k on Friday and waking up $4,300 richer on Monday.
I love seeing readers use my guidance to change their life.
And I believe you've got the genuine opportunity to transform your wealth right now.
But as I've been saying, the announcement could happen as early as tonight.
So here's the deal...
You won't have to pay anywhere near $4,000 to join Project 5X.
You won't have to pay $3,500... or even $3,000.
Frankly, the deal we've worked out is so generous that we must limit it to the first 50 folks to respond today.
Which means it's only available on an hour-to-hour basis.
As I said, I've arranged a big discount for you.
You can join Project 5X today for 38% off.
Instead of $4,000...
You'll only pay $2,497 for a one-year membership
Which saves you more than $1,500.
But you need to act today.
You've heard all the facts yourself.
This tiny microcap is going to announce a breakthrough royalty deal as soon as tonight.
Here's your chance to get in before the
next big microcap spike
(my last microcap spike returned 731%
over one weekend)
To quickly recap, here's everything you get when you act now.
The special briefing that gives you all the details you need to invest in the $8 microcap stock poised to soar above $25 as soon as tonight.
An exclusive research report titled, "5G Royalties: How We'll Cash in on 2021's Biggest Boom." — A $399 value, yours FREE!
And a third special bulletin titled, "3 Disruptors That Could Be the Next Amazon, Apple, or Netflix." — A $399 value, yours FREE!
Which details the names of three tiny micro-cap stocks that could 5x–10x your money or better as they disrupt huge industries.
These reports are your complimentary gifts when you join my one-of-a-kind Project 5X microcap research service.
Plus, every month, you'll get a new issue of Project 5X.
Inside, I'll share a new, early stage disruptive stock on the cusp of big profits.
Project 5X is totally unique.
As far as I know, no other service recommends only small-cap stocks that can 5X your money at a minimum.
You'll also get access to a Member's Only portal.
Here you can review all your gifts and valuable research at your convenience.
You'll also have a Phone Concierge dedicated to Project 5X members.
You can call our US-based team should you have any questions.
You get all this for just $2,497.
In other words, you save over $1,500.
How Just Two Tiny Breakthrough Picks Could've Turned $5,000 into More than $1 Million
Here's something wild to consider...
People had the chance to turn $5,000 into more than $1 million on just two microcap stocks my team formerly picked.
If you had put $5,000 into tiny solar stock Enphase at just $2/sh and rode it to $65, you would've had $162,500.
To be conservative, let's say you wanted to take your initial investment off the table plus a 100% profit, so $10,000.
Now you roll the $152,500 in Equillium (EQ), and you bought at $2.90 a share.
By the time Equillium closed at $26, you've got $1,393,000 in your account.
That's $5,000 into $1.3 million on just two stocks.
That's the power of tiny stocks making BIG BREAKTHROUGHS.
Of course, it would require luck and great timing to bag two big winners like this back to back.
But keep in mind... I didn't pull these examples from thin air.
I recommended these exact stocks, at those initial levels, to my paying subscribers, in print.
Now I'm not promising you'll walk away a millionaire.
But anyone who follows my recommendations should see the chance to add at least six figures to their nest egg, even from a relatively small starting sum.
Because the sky's the limit for this 109X microcap stock.
No one knows how high it will go.
The only way to find out is to take action and join me in this opportunity.
If you're still on the fence...
Know your opportunity to claim 1 of just 50 new memberships to Project 5X is backed by my 30-day, 100%, moneyback guarantee.
If membership to Project 5X isn't right for you, please just give us a call.
If you're not 100% happy, you'll get a full refund.
BUT PLEASE: This is NOT an invitation to claim my very valuable research, collect profits from it, then ask for a refund.
If that's your plan...
This opportunity is NOT for you
I'm interested in building strong, long-term relationships with my members.
I only want to work with investors who are serious.
Serious about amassing wealth in tiny stocks making BIG BREAKTHROUGHs.
Now please keep in mind, I can only let in the first 50 people who respond today.
If you click the button below and nothing happens, it means we already filled the 50 spots.
If the doors close without you, I'm happy to put you on our waitlist for if spots open up again.
And I've got one last bonus that might surprise you...
To convince you how sure I am about this opportunity... I'm going to do something I've never done in all my 15 years as a professional investor.
I'm going to issue a highly unusual, 100% conviction guarantee.
I, Chris Wood, 100% guarantee the $8 microcap will announce a game changing royalty deal that will transform its business OVERNIGHT.
In fact, I'm so confident in this recommendation, here's what I'm going to do...
If the announcement doesn't happen, just give us a call, and I'll give you another year of Project 5X membership for free.
Yes, I'll work for you for free for an entire year.
And give you 12 months of my expert, microcap recommendations on the house.
I'm that certain that a BIG BREAKTHROUGH announcement is imminent for this tiny stock.
Altogether, you're covered by two iron-clad guarantees...
And a huge 38% discount, over $1,500 in savings.
So here's what I want you to do...
Click through to the order page to join, and be sure to mark today's date on your calendar.
Because when this microcap makes its breakthrough announcement...
You can tell your friends and family about the exact day you struck gold.
The day you got into this money-making gem early... before 99% of investors had a clue.
It's one simple move that can change your financial life.
Well, I've told you about all I can.
Now it's up to you to choose.
So what's it going to be?
You have two options...
Each will have a dramatic impact on your money and your life.
The first is to go on investing the way you've been investing.
Maybe you've got all the money you could ever need.
Perhaps you've socked away the $1.5 million that Forbes says you need to retire comfortably.
If that's the case, maybe you don't need my help at all.
Or maybe you're feeling a little behind... but you've sensed there is a better path.
Maybe the microcap profits within your reach would make a real difference in your family's life.
If that sounds accurate, I offer you option two.
Let someone with 15 years of market experience guide you.
Someone who has taken their lumps, paid their dues, and put in the work to figure it all out.
Because as early as tonight, this microcap is going to announce its breakthrough deal.
The stock will soar.
It'll be all over the evening news.
Imagine the look on your family's face when you tell them: "We own that stock."
Simply click the button below to get started.
It will take you to a secure order form.
There you'll have a final chance to review everything one last time.
Best of luck, and I hope to see you inside.
Click here to see if there are any spots left
Copyright © 2021 RiskHedge, LLC. All rights reserved.